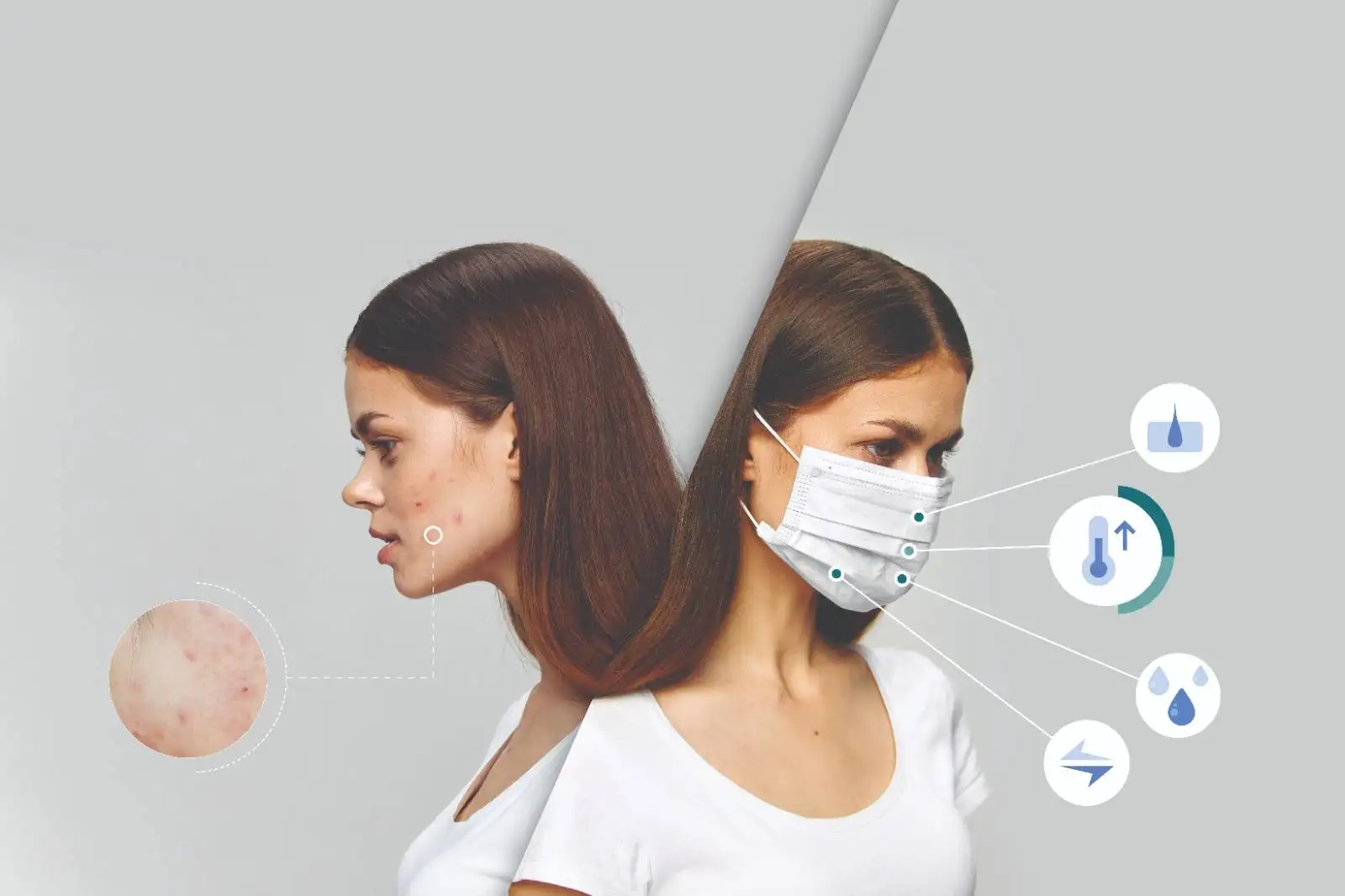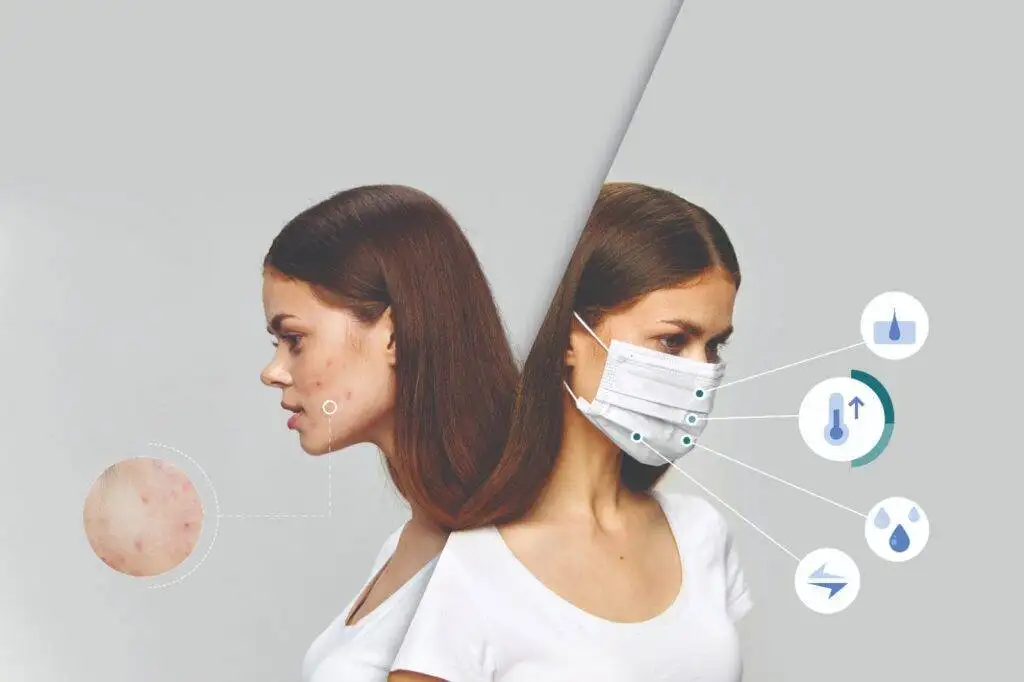 Who would have thought when COVID-19 entered the world, that we one year later would be wearing masks?  Masks, unknown to most of us until last year, have now become a part of our daily lives as a vital measure in preventing the spread of COVID – 19. Despite all the good things masks are bringing, they also can irritate our skin. Let us take a look at what we can do to keep our skin healthy and glowing through these troubled times. 
How masks affect the skin
Having our face covered with different types of materials affects especially sensitive and acne-prone skin types. But even healthy skin takes a strain out of being covered a whole day. The Journal of the American Academy of Dermatology published a report that shows a striking 97 % rate of skin damage enhanced by infection-prevention measures among front-line medical workers in Hubei, China.  
Over 70 % of those workers cited dry skin
56.8 %  faced tenderness
52.5 % felt itchy skin. 
Over 60 % noted desquamation (peeling skin)
49.4 % experienced erythema (redness due to burst blood vessels)
32.9 %  had papules (pimples). 
The nasal bridge, where a mask rests, was the most common area of irritation according to the research. Source: JAAD 
The reason that masks can irritate the skin is that they trap sweat and moisture, which along with friction from the fabric can disrupt the skin's protective barrier. The result of this is an irritation of the skin. This is just one report showing how the daily use of masks affects our skin. All of us that have used masks for a long time know how the skin feels. That it is longing for some extra love and attention. 
A mask is more than just a mask
A vast majority of the countries require that we wear masks when we are in public spaces. For some countries, it is not mandatory in open spaces, other countries have laws for wearing masks also in open spaces and outdoors. What type of mask you wear can have an impact on how your skin is fairing when you use a mask for a long period. 
We are advised that we should look for a mask made with at least two layers of fabric. It is also advised that professional masks should be reserved for health care workers caring for patients on the front lines. No matter what colour, pattern or brand we choose, the masks generally fall into two categories, cloth masks and surgical masks. 
Cloth Masks
Cloth masks can be made of any fabric. You can find these masks in different fabrics, from linen to cotton to these two mixed with polyester. Thick, densely woven cotton is anyway seen as a good material for cloth masks. The benefit of these masks is that they can be washed and used for a long time.
Surgical Masks
The material most commonly used to make these masks is polypropylene, either 20 or 25 grams per square meter (gsm) in density. Masks can also be made of polystyrene, polycarbonate, polyethene, or polyester. Surgical face masks are made with non-woven fabric, which has better bacteria filtration and air permeability while remaining less slippery than a woven cloth.
These masks help slow the spread of the coronavirus that causes COVID-19 and help keep people who unknowingly have the virus from transmitting it to others. They are at the same time covering our face from fresh air and this can sometimes irritate the skin. This is why it is, more than ever before, so important to take care of our skin in the best possible way.
Measures for healthy glowing skin – even with masks
We all want to have healthy glowing skin. In times like these, it is also important for our overall well-being. If you feel good when you look at yourself in the mirror, the whole day is much brighter! It has been a tiring year and I think that we all want to both feel good and look good. 
SQOOM has since the beginning specialized in helping people with skin problems. This is how our journey started back in 2005 when Dr Helmut Christ, devoted himself to cure skin diseases as neurodermatitis and psoriasis resulting in a patented Synchron Technology made of low-frequency ultrasound and iontophoresis in combination with magnetic and light fields. This together with the natural serums that were developed created a new skin technology.
Looking at what we can do to prevent skin problems from developing when wearing masks, these skincare routines give a solid foundation for healthy glowing skin.
For Q1 owners:
Cleanse and moisturize your face daily with Aqua Tonic. The low level of pH, 5.5 makes it a perfect match for allergy-prone skin types. Sensitive and dry skin also benefits from the gentle cleaning of Aqua Tonic. The cleansing water is based on antibacterial and antiviral active ingredients which are soothing for irritated skin.
Generously apply Aqua Tonic onto the cotton pad placed on the transducer or directly onto the skin area to be treated. Switch on the SQOOM device and choose the cleansing mode, hold the device firmly on both sides so that you touch the contact handles. The magnetic ring around the transducer allows you to fix the SQOOM cleansing pads directly on the device and clean the skin to remove the dust and the dirt, deep into the pores.
If using SQOOM M2 device and xCential serums, try the following steps: 
After applying SQOOM Cleanser Serum to deep-cleanse your dermis, spread SQOOM H+ Serum abundantly onto the M2 transducer and treat your skin for 12-16 minutes on M or W program modes. The transducer produces one million gentle vibrations per second, which penetrate natural derived nutrients and moistures to all layers of the skin deep to the dermis.
We recommend that you initially, for best result, treat your skin daily after which you can go over to weekly treatment. Using the gentle Aqua Tonic for cleansing together with the SQOOM device and serums makes a difference for your skin. 
If you never tried SQOOM or know someone whose skin would need a little extra love, our Starter Package, now on Spring Sale, is the perfect way to bring new life to tired skin!
No matter what the rest of 2021 is bringing. Continuation of wearing masks or a mask-free society, I think we can agree about one thing. Our skin is valuable and deserves all the love and care we can give it!