"Quite possibly the most elegant and effective way to achieve visibly beautiful skin."
Revolutionary, Regenerative & Rejuvenating
Proactive anti-ageing treatment. Loved by women and men of all ages!
SQOOM facial treatments perform in lower cutaneous layers where Ionization and sonophoresis merge as an innovative solution to penetrate and nourish the dermis to visibly reduce skin ageing and wrinkles in an all-natural slow ageing way.
Transforming the depths of skincare.
SQOOM - Professional skincare for a rejuvenated slow ageing skin
SQOOM's patented synchronous technology in the Q1 and M2 facial treatment devices together with all-natural vegan xCential Serums rejuvenates and regenerates your skin at a whole new level! The cleansing gently removes old cells and the active agents from the serums are transported deep into the dermis, in this revolutionary skincare treatment.
The SQOOM concept has played an important role in the cosmetic and dermatological sectors with its highly advanced ion technology and ultrasound functions since 2005. Taking the skin treatment to a new depth for thousands of people all over the world!
Synchron tech at its finest
#TheSkinRevolution combines ultrasound and iontophoresis for ultimate skincare treatment.
SQOOM Q1 Light therapy microcurrent facial device
SQOOM Q1 Light therapy microcurrent facial device for deep cleansing and nutrition, functions through ultrasonic vibration. Q1 functions as a highly advanced Cleansing and Nutrition skincare treatment when combined with our xCential Serums.
Fast and uncomplicated, the SQOOM Q1 package makes for the revolutionary, daily skincare ritual and a light travel companion when you're on the go.
Effective light therapy
for healthy skin.
SQOOM M2 Professional Skincare at Home
With its biphasic technology of ultrasound and ionization, SQOOM M2 is a patented Professional Skincare Device for Homecare with treatments that gives thousands worldwide a firmer, smoother and healthier skin.
All 7 facial modes – Cleansing, Massage, Wrinkles, Lifting, Sono, Iontophoresis for cleansing and nutrition, when paired with our natural SQOOM xCential Serums, dive into the depths of your pores. They supply your dermis with optimal nutrients and gift it with that incomparable silkiness, firmness and smoothness that you have always dreamed of!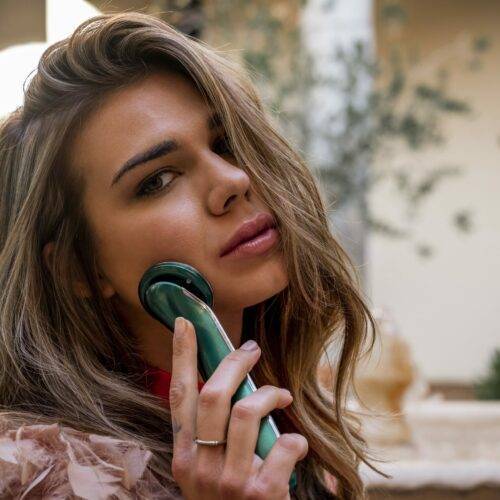 The ultimate skincare routine delivered to your door
Be the first to know about great offers and new release