Growing up with lots of animals around me, I never thought that somebody could be cruel to animals. It was just not there in my world. It took me quite some years to realise that maybe not everybody looked at the situation the same way as my family. To realise that there are a lot of animals in the world that is suffering from the cruelty of us human beings. Not only when it comes to how they are treated but also how animals throughout the years have been used as Ginnie pigs in testing the beauty products that we use. World Animal Day, which is observed annually on the 4th of October, is there to remind us and raise awareness to improve the living conditions of animals.
World Animal Day
World Animal Day was started on the 24th of March, 1925. A German initially organised world Animal Day, he was named Heinrich Zimmermann (1887–1942). Heinz Zimmerman was not only a writer but also published a bi-monthly magazine.  The magazine called Mensch und Hund / Man And Dog was used as a medium to promote his views on animal welfare. And to establish the World Animal Day Committee. Finally, in May 1931, the International Animal Protection Congress celebrated World Animal Day every year on the 4th of October. 
The 4th of October was chosen to celebrate World Animal Day because this is the day of the feast for Francis of Assisi. The patron saint of ecology and both had a warm heart for animals were famous for his kindness to animals. The day is not about celebrating animal care and protection for just one day but a gentle reminder to all of us to keep this in mind every day of the year. 
World Animal Day is the one day of the year that embraces all animals and the unique concerns of each. It's an exceptional opportunity to commemorate our love and respect for animals by doing something special to highlight their importance in the world.  It unites the animal welfare movement, mobilising it into a global force for change.Source:WorldAnimalDay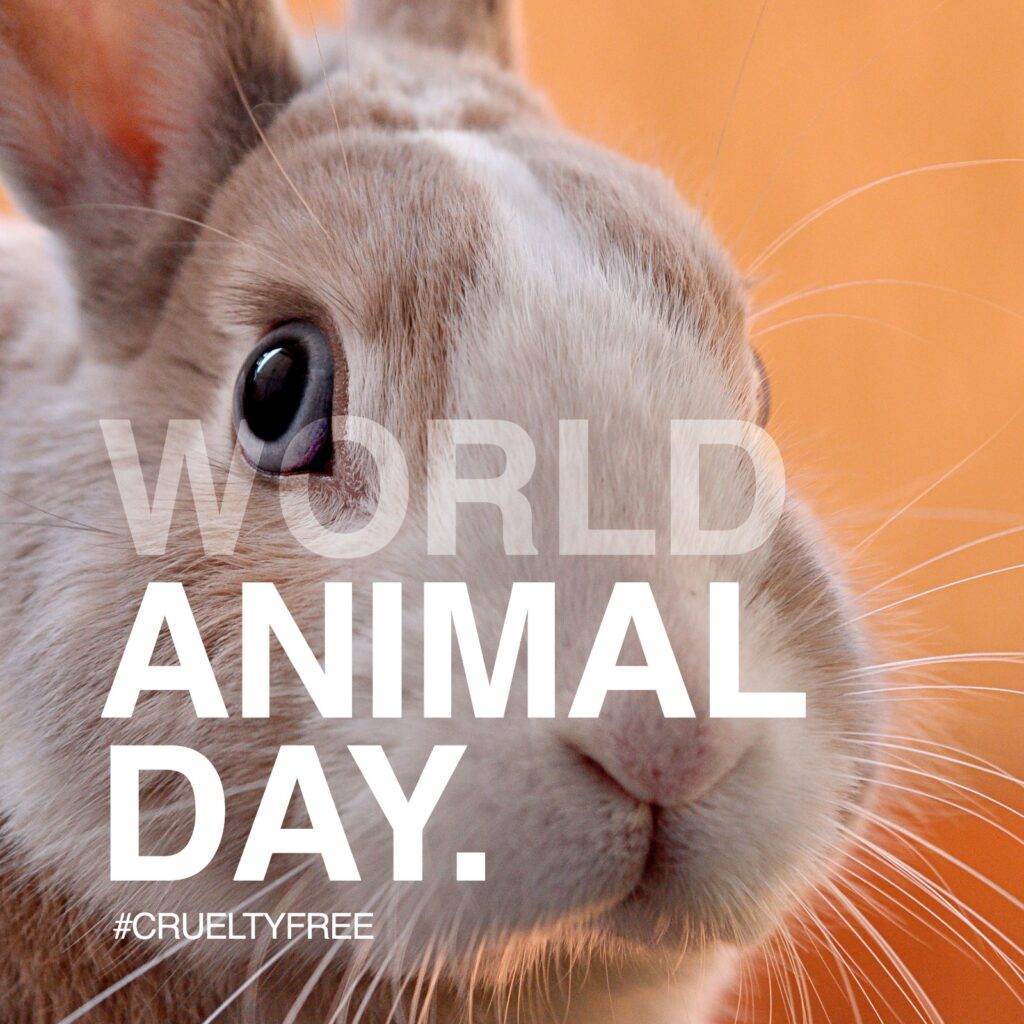 Cruelty-free Skincare
Taking part in Humane Society's research of animal testing on beauty products and the methods throughout the years is an upsetting reading. We human beings who have been keen on looking good did not have any qualms about testing the products on animals before we used them ourselves. 
What is then Vegan Skincare? You can, in essence, say that vegan skincare means that you use makeup and beauty products that do not come from animals. Or are animal-derived products or by-products, collagen is an example of an animal by-product. The other aspect of vegan skincare is that there is no animal testing of the products. We are happy to be on the right side of history, SQOOM is cruelty-free, and we are not doing animal testing on our All-natural vegan serums.
All-natural Vegan Serums
Take care of the world with sustainable actions and spare the animals from pain; meanwhile, you give your skin a glow with healthy all-natural ingredients. All-natural Vegan Serums will feed your skin with beneficial nutrients, straight from nature and with no need of testing them on animals. And this is quite clear if you think about it. If the skin care product is straight from nature and without any preservatives or chemicals added, there is no need for animal testing before we humans use the product.
When it comes to food, the FDA has considered the term "natural" to mean that nothing artificial or synthetic, including all colour additives regardless of source, has been added to, or has been added to, a food that would not normally be expected be in that food. Source: FDA
The definition of Vegan is; Veganism is the practice of abstaining from the use of animal products, particularly in diet, and an associated philosophy that rejects the commodity status of animals.
Regarding the definition of "natural" in skincare, there are no strict definitions. There are, however, some general rules for the term "natural" in skincare. As a consumer, you are responsible for checking the ingredients and decide based upon your values whether this product is what you are looking for or not. For example, are the ingredients derived from a natural source? The other thing to look out for is how the ingredients have been processed. Have they been subjected to one or more chemical processes that have altered the structure and changed the ingredients?
SQOOMs serums are all-natural vegan serums. It is worth noting, in general, that a product labelled 'vegan' can include synthesised ingredients made in a laboratory. Some common cosmetic ingredients derived from animals sources include glycerin, collagen, gelatine and retinol.
If we take a deeper look at one of SQOOMs serums, you will see that our serums are indeed based upon the best nature can give us.
xCential H+ Serum has active ingredients that are fresh from nature:
Hyaluronic Acid – Boosts the skin, reduces fine lines and wrinkles, and prevents dermatitis. Hyaluronic acid binds a lot of water. For example, 1g hyaluronic binds 6 l water and is one of nature's most effective moisturisers.
Aloe Vera Juice – Gives intense hydration to the skin; meanwhile, it's anti-inflammatory.
Garden Cress – Activates the body's detoxification mechanism.
Extract from Inula – Protects the skin from UV radiation with its high antioxidant effect at the same time it repairs damages caused by the sun.
The H+ ingredient – Is a high-quality, low molecular hyaluronic acid that reduces wrinkles and fine lines.
Bio Alcohol – Has gentle disinfecting and a cooling effect on the skin. It also keeps the fresh active ingredients in SQOOM xCential Anti-aging Serum fresh from nature.
Complete List of Ingredients: Aqua, Alcohol, Glycerin, Aloe Barbadensis Leaf Juice Powder, Sodium Hyaluronate, Xylitylglucoside, Anhydroxylitol, Lepidium Sativum Sprout Extract, Lecithin, Inula Viscosa Flower/Leaf/Stem Extract, Xylitol, Xanthan Gum, Sodium Hydroxide, Acrylates/C10-30 Alkyl Acrylate Crosspolymer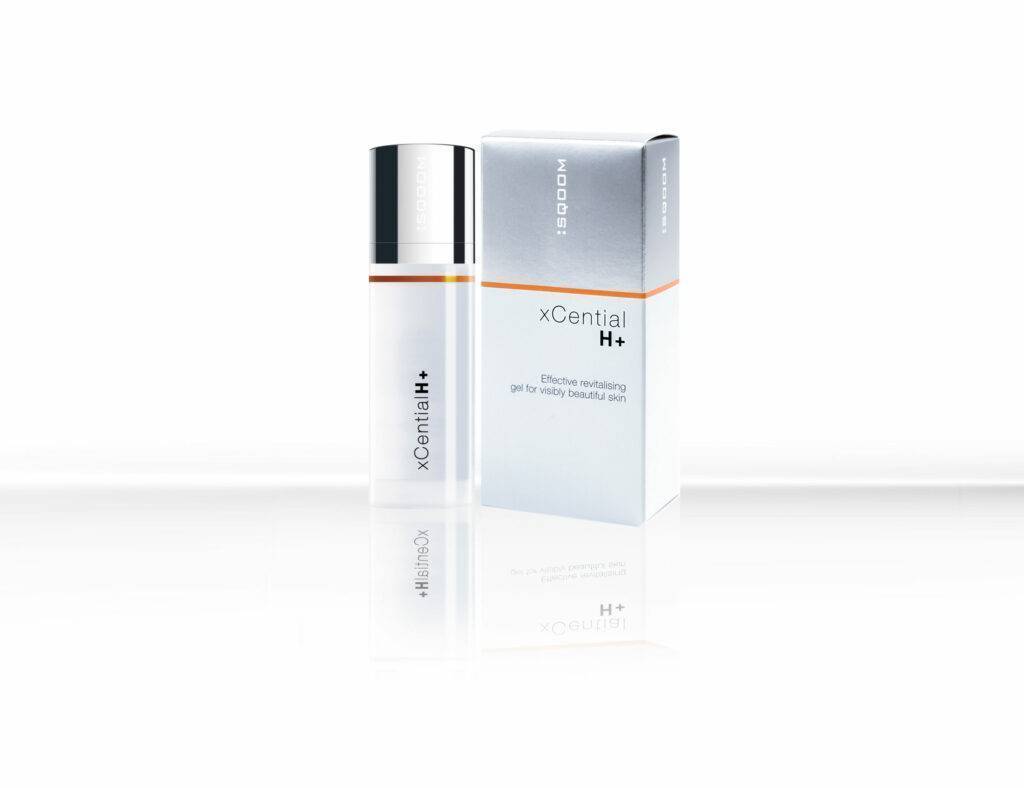 SQOOM xCential deSpot brightening serum contains a unique combination of sulforaphane and genistein, which fight the free radicals. This combination brightens the skin areas and reduces age spots in a liposomal variety.
By combining a super-moisturiser with low molecular bio hyaluronic acid and Aloe Vera leaf juice, SQOOM xCential deSpot Serum, has a very intensive and long-lasting moisture optimisation of the skin.
Exposing the skin to the sun triggers free radicals and causes age spots. Sulforaphane acts like the superantioxidant in SQOOM xCential deSpot Serum, reducing the age spots and removing the harmful reactions of the metabolites.
Active Ingredients
Sulforaphane – Cancel out free radicals
Genistein – Is found in Soy products and is helping to control blood glucose.
Aloe Vera Juice – Gives intense hydration to the skin; meanwhile, it's anti-inflammatory.
Complete list of ingredients: Aqua, Alcohol, Glycerin, Aloe Barbadensis Leaf Juice Powder, Lepidium Sativum Sprout Extract, Sodium Hyaluronate, Soy Isoflavones, Lecithin, Papain, Calcium Pantothenate, Urea, Magnesium Lactate, Ethylhexylglycerin, Potassium, Lactate, Serine, Proline, Alanine, Magnesium Chloride, Sodium Citrate, Caprylyl Glycol, Xanthan Gum, Sodium Hydroxide, Acrylates/C10-30 Alkyl Acrylate Crosspolymer.
A bottle filled with natural active ingredients.
Our All-natural Vegan Serums are indeed bottles filled with the best that nature has to offer. Serums that give our skin the boost the way nature intended. No preservatives or other add ons, free from sulfates, phthalate, and parabens as they help our skin-boosting our inbuilt system to take care of our skin and prevent the signs of ageing.
And they are cruelty-free! SQOOM do not do animal testing! The serums are boosted with natural ingredients and carefully processed to protect the active natural ingredients in them.
Let's be conscious of our choices and spare the animals from the cruelty that they are under when being used as test animals for our needs to feel good. Choosing an all-natural skincare product DO make a difference! You save an animal from cruel testing and you contribute to a better world for all of us. Be natural, be friendly to all our fellow earthlings, whether they walk on two legs, four legs, fly or swim. Happy World Animal Day!